= 0
Available in 50ml & 250ml sizes, suitable for all Vista Epoxy Resins
Can be used to create transparent or opaque colours, diluted between 0.1-2% by volume
Super-Concentrated, Universal Epoxy Pigments, ideal for any project!
Low Odour, No VOC's, Solvent Free and Non-Flammable
PEOPLE ARE CURRENTLY VIEWING THIS PRODUCT
For same day despatch order within:
Free Delivery on orders over £50 or 5.99 UK mainland
Orders are despatched in the order they are received. The earlier you order the quicker it will be despatched.
Product Information
Product Information
We have a wide range of epoxy colour pigments, from subtle greys to eye-catching bright colours and stunning metallics. We also have a Metallic Booster which will create metallic effects out of any of our colours. Add 1-2 drops of epoxy pigment to 100ml+ of clear epoxy resin to create a semi-translucent tint; add the same again for a fully opaque colour.

Our Vista Pigments are available in a 50 ml or 250ml squirty bottle. 50ml is enough to create 10-15kg of coloured resin whereas 250ml will give you 50-75kg.
Vista Pigments are fully compatible with various other inclusions such as glitter and mica powder.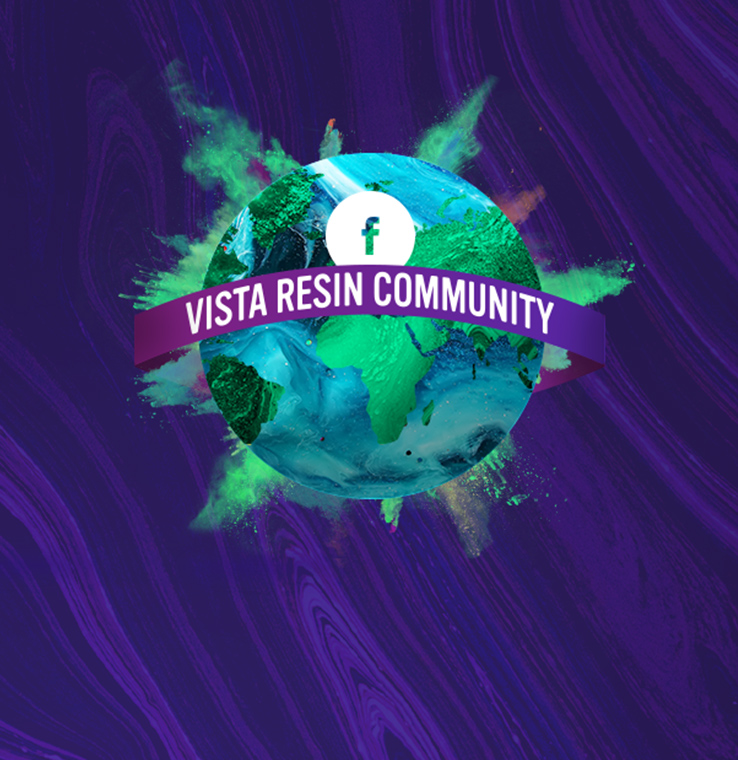 Usage Guidance
Usage Guidance
Our Vista Pigments are highly concentrated, and so only a small amount needs to be applied to your mixed epoxy.
To achieve a tinted effect we recommend mixing small quantities of pigment into your resin at a time, observing your results as you go, this way you can make additions until you reach the desired effect.
For a fully opaque finish we would recommend adding between 0.2% and 1% by weight – so for 200g of mixed resin you would add up to 2 grams of pigment. You can use greater additions of course, but bear in mind additions of greater than 5% may lead to extended curing times and potentially anomalous physical properties.
Another thing to bear in mind is the natural differences between darker and lighter colours, in terms of opacity. For example, a black pigment will not need as much addition as say a yellow, to achieve the same level of opacity.
For smaller volumes of resin, for example in jewellery pieces, use a toothpick to add and mix tiny quantities of pigments.
HOW MUCh RESIN DO I NEED?
Grab your ruler, let us know the size of your product and we'll calculate how much VISTA resin you will
need for your project
RESULT
Total amount required
1,000 grams
Item cost
£85.00
Exc. delivery
LET US WORK OUT How Much A & B You Need
YOUR RESULT – YOUR PERFECT RATIO
Part A
500ml
Part B
500ml
Let's see your handy work! Leave a review!
Please leave a review including photos! We love to hear from our customers, and see the fantastic projects they complete. You can also review us on Trust Pilot and Google! If you'd like your project to be seen by our staff or featured on our social media channels, please email in any images to jade.tyson@vubagroup.com.
Ask us a question
A number of our most common customer queries are covered in our FAQs section. However, if you still can't find the answer you are looking for then simply fill out the form below and we will get back to you.