= 0
Product Code:
VS-LUM-200G
Single Part UV-Curing Resin, simply apply light to cure!
Perfect for thin pours, jewellery and small encapsulations
Super-Fast curing and easy to use single part product
Low Odour, No VOC's, Solvent Free and Non-Flammable
PEOPLE ARE CURRENTLY VIEWING THIS PRODUCT
For same day despatch order within:
Free Delivery on orders over £50 or 5.99 UK mainland
Orders are despatched in the order they are received. The earlier you order the quicker it will be despatched.
Product Information
Product Information
Vista Lumen is a UV-curing epoxy resin, which is ideal for small projects such as jewellery, trinkets and small, thin pieces. Lumen is compatible with the usual additions to art resin pieces, such as epoxy pigments and mica powder.
Vista Lumen is a one part resin - so no need to worry about ratios of Part A to Part B. As a result of this you won't need to think about bubbles in the finished piece, if you do add bubbles when mixing in pigment, Vista Lumen reliably self-degasses. Because Lumen is a UV-curing resin, as soon as it is poured out and exposed to light the curing process will begin. Lumen will cure at different rates depending on the conditions on the day:
Under a UV Torch - 1-2 minutes - the stronger the UV torch, the faster the curing period.
In direct sunlight (on a sunny day) - 10-15 minutes
In direct sunlight (on a cloudy day) - 30-60 minutes
 
Lumen has a heat resistance of up to 100°C, however as with all our epoxies, we would recommend allowing 14 days at full cure before exposing to heat. As Lumen behaves so differently to the other epoxy in the Vista range, we recommend trialling the resin before using it in a project, so you can familiarise yourself with the different curing behaviour.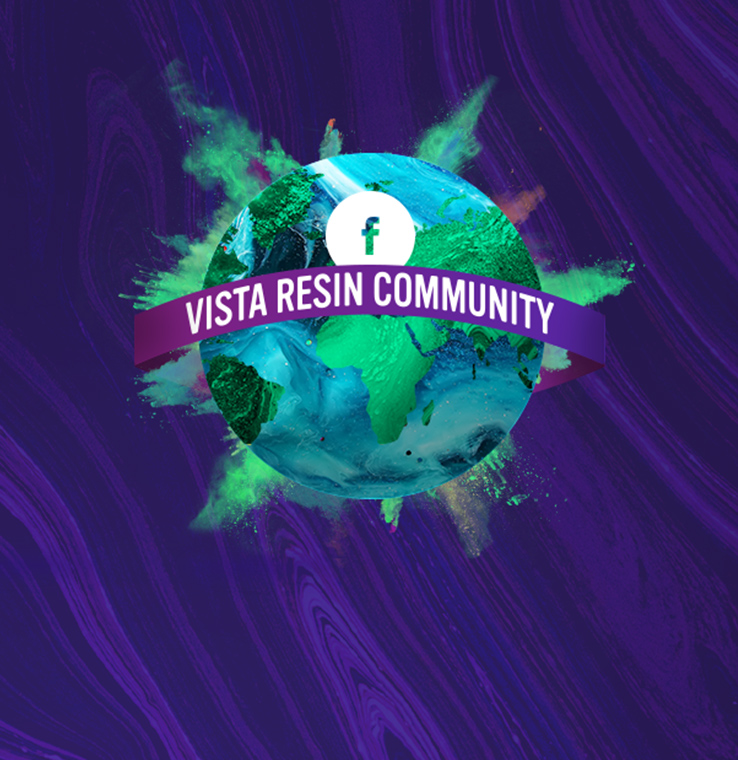 Let's see your handy work! Leave a review!
Please leave a review including photos! We love to hear from our customers, and see the fantastic projects they complete. You can also review us on Trust Pilot and Google! If you'd like your project to be seen by our staff or featured on our social media channels, please email in any images to jade.tyson@vubagroup.com.
Ask us a question
A number of our most common customer queries are covered in our FAQs section. However, if you still can't find the answer you are looking for then simply fill out the form below and we will get back to you.